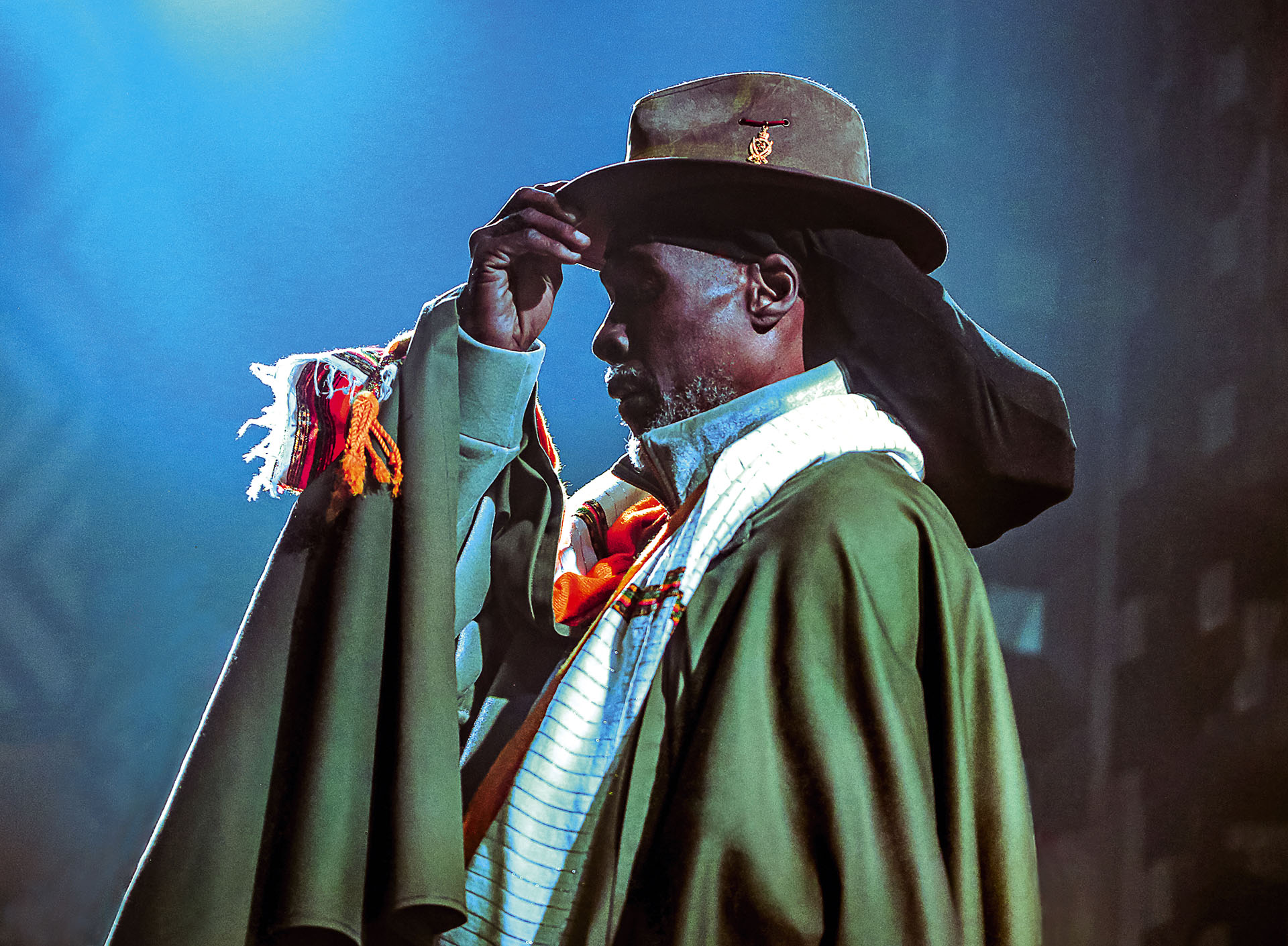 Vaughn Benjamin
All Of Zion Is Of I
– An Obituary
Text: Laurent "Tippy I" Alfred
Photo: James Gaillard (Lakay Photography)
Vaughn Benjamin, the Akae Beka, a steadfast student of Haile Selassie I and Yeshua the Christ, was a teacher to me and to countless others during his lifetime. Vaughn left the earthly plane on November 4, 2019 with a legacy of works unparalleled in reggae music. And he accomplished this in 50 years by doing what others would not or could not do.
"Do the opposite thing…" he would sing in one of the first songs he and I recorded together in 2001. Vaughn released 72 original albums during his lifetime and never once put his image on a cover. He recorded well over 1500 songs and never came to the studio with pre-written lyrics. He wrote thousands of poems and songs that went unpublished. For 30 years, his bands Midnite and Akae Beka routinely performed 3-5 hour live shows, vibrating at a meditative heart rate tempo that few reggae artists would dare ride for more than one song. Vaughn lived a daily life of remarkable simplicity and openness unimaginable for an artist of his stature. And through all his unique ways of living and creating his art, he realized a truth early in his life and one that he would put into song: "only from resistance you know me."
"Born in the Time…" Vaughn Andre Benjamin was born on August 13, 1969 on the island of Antigua. The fourth and last child of Ronald and Jenita Benjamin, he was raised in a tight-knit household headed by a musician/ bandleader/studio owner father and a school principal mother. Vaughn was a precocious left-handed, creative mind, student and athlete from a young age. Moving with his family to the island of St. Croix, US Virgin Islands at the age of 9 brought young Vaughn Benjamin to the island that would shape his singular approach to art and life, and become the musical and intellectual incubator for the sound and songs he and his brother Ron would make renowned the world over. Ron and Vaughn Benjamin formed Midnite band in 1989 and spent years refining their trademark deep roots sound with near nightly performances on St. Croix. By the time the band relocated to Washington DC in the mid 1990's, Vaughn had developed a lyrical and vocal prowess intertwined with his brother's musical genius that was poured into the band's first two releases: Unpolished in 1997 and the starkly recorded Ras Mek Peace (Before Reverb and Without Delay) in 1999.
Rarely does a debut album remain at the top of an artist's catalog, but the power of the 10 songs on Unpolished continue to reverberate as Vaughn Benjamin's most widely known and universally accessible lyrics. "Love the Life You Live", "Africa I Belong", "Eyes are the Light of the Body" are more than song titles, but become, like all African art, something functional – musical mantras to live and work by. During my two years of touring with Akae Beka, I heard stories in every country and city about what role his recordings played in people's daily lives and routines, most commonly as soothing for infants and the young. And as for these listeners in their consumption of his music, so it was for Vaughn Benjamin in the creation of it: there was no separation between art and life. He was not an "entertainer" or "artist" in the music industry sense, and shunned both titles. The norms of the music entertainment, stage show "in-dust-tree" as he called it were deeply antithetical to Vaughn's way of life and thinking. For him, self aggrandizement in public speech and on stage was to be avoided. Backstage after each show was devoid of alcohol but filled with hours of urgent reasoning with motivated audience members, a mission he took as seriously as his stage work.
When Midnite returned to St. Croix at the turn of the millennium, they pioneered a wave of conscious Rastafari reggae in the US Virgin Islands that continues to spread to this day. The VI Roots movement spearheaded by the Benjamin brothers served as a precursor and inspiration to the "Reggae Revival" movement in Jamaica, whose leading lights credit Vaughn as deeply influential to their writing and lives. Vaughn and Ron released their seminal third album, Julbilees of Zion in 2000 on St. Croix, at the same time as several VI production houses emerged, with Vaughn contributing songs to all of them. Vaughn's lyrical standards uplifted the entire movement and shattered all previous standards of depth, detail and productivity. No one producer could keep up with Vaughn, and his creative output multiplied with the houses his works launched or sustained. His work ethic matched his soul mission: doing things completely and fully in the now.
I began working with Vaughn while in my first year of law school, having only an athlete's work ethic and a zeal for making music in my spare time. In spite of, or maybe because of my inexperience, something inspired Vaughn to work with me and entrust me and my partner Kenyatta with producing and releasing his fourth album, Nemozian Rasta, and eleven others over 19 years. Vaughn changed my life's trajectory, and everything that followed in my musical journey, from I Grade Records to Dub in the Rainforest, was sparked by his works. And though I Grade was the first of many collaboration albums, all of the other labels and producers can attest to the power of Vaughn's sparks. Among the 72 albums are nearly a dozen labels that would not be, but for his works. "The Lord gave the word, and great was the company of those that publish it" is one of King David's psalm lyrics that Vaughn would remind us with pride. Vaughn spoke intensely of the concept of word, sound, power, which he takes literally, recognizing within each word and sound, the many alternate meanings and energies that arise. He writes heavy with allegory, in a way that allows the listener to interpret the songs through their own life lenses, making the songs both uniquely personal and universal. And rather than hold his creative voice hostage to "hit song" potential, he approached each song as a sacred opportunity to share a word sound for the ages.
Despite his reputation for rebelliousness, and even with a tongue cutting like a two-edged sword, Vaughn was an extremely loving soul who cared deeply about people around him and about the human condition. He was a counsel, brother, spiritual leader and teacher to many loved ones in his hometown of Frederiksted, some of whose names pepper the lyrics of his songs. He sustained many ones with his generosity – often returning from tours with stacks of cash to quietly distribute to the town. During the recording of some his recent albums, a new theme began to emerge. Songs like "Mongst I and I", "Same Boat We", Same I Ah One", and, "Whatever you Believe" deliver standing grounds for peaceful and respectful co-existence. Songs like "A Healing", "Like Rhyme", "Love is Among" and "Weather the Storm" provide ailments for difficult times. His songs began to weave together like a fabric. His 23 years of releasing music, from Unpolished in 1997 to Mek a Menshun in 2019, and his network of listeners and supporters from 30 years of touring, began to crystallize into a tangible worldwide web of connected minds and ideas. Vaughn Benjamin's sudden passing revealed the depth of his human impact and the genius of his artistic design. As all of the connections he placed in song and conversation started vibrating together, we were all going "through similar things same time" as Vaughn sung. Experience does indeed tell the story, and as each story is told and retold about Vaughn, we should remember his own biographical words: "I don't think you know me, I'm from a mountainous plateau, all of Zion is of I." ★
Find Riddim #99 online.